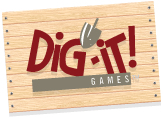 I just love when I discover a game that makes learning easy. Games have such amazing power to teach even the most reluctant child. We have had the chance to use an amazing new game that teaches all about the Ancient Mayan Culture, and the science of Archaeology: Mayan Mysteries by Dig It Games.
What is Dig It Games Mayan Mysteries

Mayan Mysteries by Dig It Games is a computer (or iPad) game that teaches the child about archeology and Mayan culture in a fun and creative way. The basic storyline of the game is that someone has been stealing ancient Mayan artifacts and selling them for a profit. Your child gets to help the Professor and his Niece and Nephew to solve puzzles and collect clues so they can find the thief and stop people from stealing the priceless Mayan artifacts!
This game can be used either as an online subscription or an iPad app. We received the online version, which allows access for one child to play the game for a year. The game is an amazing quality- I am so impressed with the beautiful graphics and thoughtful challenges. Your child will do everything from uncover artifacts and determine their use, time travel back to visit the Mayans, solve puzzles, and label maps to learn more about South American geography.
Our Thoughts
Bug immediately fell in love with this game. The back story is told with a comic strip, so my boy was hooked right away! He loved the challenges. He is a huge fan of puzzles and enjoys the challenges presented in this game.
I was really impressed at how MUCH it teaches the child. When Bug first started playing, he learned about the geography of South America, and where the Mayans lived. Bug then had to label the map with the countries, mark the location of major Mayan historical sites, and shade the region where they lived. If he struggled, there was a place for him to click to receive extra clues to help him solve the puzzle and mark the map.
Map Work in Dig it Games
We loved that help like this was available every step of the way. Bug is younger than the recommended age group for this game, but he was able to complete almost every challenge given to him by using the help option when he needed it. The only challenge he needed my assistance with was a math based problem.
With this game, Bug practiced skills such as critical thinking and reading for understanding. He learned about the Mayan Culture and South America. He was able to pretend to be an archaeologist and has a new-found interest in learning about historical cultures. I am blown away at the thoughtful content in this Game!
The game includes a significant amount of reading as pictured here- kids read for information, and then participate in challenges to earn new clues and information to solve the mystery! 
Dig It also has a Roman Town game, and I am really considering purchasing it now for Bug to play before we head to Rome. I am really hoping to take him later this year, and I think this game will help him learn all about the culture before we head there.
In a Nutshell
I can't think of a more fun way to learn about Mayan Culture and Archaeology than Dig It Games. The program is so interactive and engaging, a child will learn an incredible amount in an hour of playing, and won't even notice the game is educational. This game does require a significant amount of reading, so it would be most appropriate for strong readers (It is marketed for kids in Grades 5-9, but my second grader who LOVES to read really enjoyed it!). Dig It Games would be a fantastic supplement for any Ancient History program- Check it out!
Some of my Crew Mates also reviewed the iPad version of this game- click the Crew Banner below to read more about both versions!

Purchasing Information
You can purchase an online subscription for one student to access Mayan Mysteries for $21.99.
The Mayan Mysteries iPad app is available for $9.99
Join the newsletter
Subscribe to get our latest content by email.